Now you may say, Miguel, I know my credit scores already.  I have "Credit Karma" or Credit Sesame" or "enter free credit monitoring service here".  There are a few problems with these so called "free" services.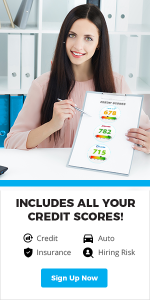 One they do not report the credit scores accurately used by most lenders widely known as FICO, used by 90% of lenders. But, rather a score used only for educational purposes known as Vantage Score 3.0 or 4.0, which is a competing model with FICO. Nevertheless, Vantage Score is gaining popularity and are trying to level the playing field of the credit score models of choice by lenders. In the meantime, FICO is hugely the preferred choice as of now. Secondly, they do not provide you the "consumer" the tools you need to see everything that's important to improving your credit score.  Contrary to popular belief most of these so called "free" credit monitoring platforms have been known to cause "Data Triggers" to the same very debt collectors' consumers owe money to. This leads to the growing number of frustrated and confused consumers in today's "Free" social lending and credit service platforms. Which leads me to my next question, how safe is my personal information?
Have you ever noticed as soon as you give them all your personal information, old debts miraculously reappear on your credit reports as new debts? Furthermore, worsen your credit by re-starting the collection activity of debt collectors now contacting you. Say what?
That's correct, remember the number one business in today's world is "Data Collection" or "Data Mining" reselling and or marketing of your personal information to whomever pays the most for it.  Please remember, nothing is "free" your data is worth more than a "free" misleading credit score and surrendering of your personal data to third party debt collectors.
My recommendation is to sign up for a paid subscription like our SmartCredit Monitoring App – it's a comprehensive credit and money management app that enables our client's to better manage their credit and personal finances. InCreditable Advisors partnership with SmartCredit allows you to track your 3 personal credit scores, along with your auto score, your insurance score, your hiring index grade and a dashboard that allows you to manage your personal finances all in one place.
There are many reasons why this is helpful, and we will get more into that later. One of the main reasons is that you will have your very own access to all three major credit bureaus. This allows you to view what's being reported from all three credit reports and scores from TransUnion, Equifax and Experian for the best possible credit assessment and recommendations for a healthier credit profile. The one common statement you will hear from us is this – Do you have car insurance? How about health insurance? Then why don't you have Credit Monitoring?
Again, please understand credit is the most important financial asset to protect when it comes to wealth building. Remember, we live in a credit driven society today, where everything revolves around your three-digit credit score.
Second, important reason for having credit monitoring is Identity Theft – This the fastest growing online crime in the United States occurring at a rate of once every 79 seconds. The Federal Trade Commission (FTC) reports that Identity Theft alone, accounted for over 42 percent of all frauds reported to federal authorities. Statistics show that the victims that suffer the most significant financial impact are those that the thief has opened new accounts in their name and that the theft had went undetected longer than 6 months.
There are known instances where an individual had been monitoring their credit report, noted suspicious activity and was able to stop an identity thief in his tracks. Please understand that Identity theft costs are astronomical, not to the mention the emotional drain it puts on you and your family.
With these things in mind, it is easy to understand why checking and monitoring your credit report should be an important part of your Identity Theft prevention strategy. As the speed of information technology becomes even faster, and as identity thieves become more creative, monitoring your credit profile on a daily basis is more important than ever.
So, ask yourself this! Are you sick and tired of being rejected and embarrassed because of bad credit? Are you fed up with paying double, if not triple for everything you buy and finance? Do you want to buy a house for you and your family, because it's cheaper then renting? Do you want your credit report to reflect a good image of yourself and to honor your good name? Are you frustrated with errors and false information on your credit report? If your answer is yes to any one of these, then GOOD FOR YOU! Now is the time to take control of your credit, improve your score, reach your financial goals and stop making everyone else RICH!!!
InCreditable Advisors has helped more than 30,000 Indiana residents just like you restore and improve their credit. Our organization has a fantastic reputation and produces exemplary results built on integrity, character and an exceptional commitment to obtaining the best results possible for each client. Don't trust your greatest asset with just any company, trust the experts at InCreditable Advisors. We are the leading experts in Credit Repair, Debt Settlement, and Business Credit! Visit us at www.CreditIndy.com today to Schedule a "30 minute Credit Strategy Session". Or give us a call at 317.202.1297.
"Whether we realize it or not, if we fail to plan, we are planning to fail."
Social Share